Fluorescent Microscope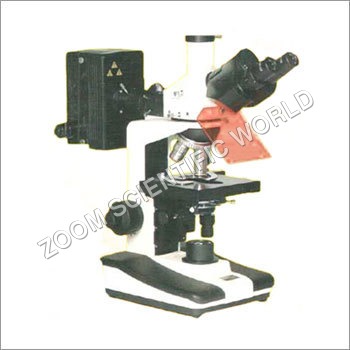 Fluorescent Microscope
Product Description
We are a reputed organization that caters to the diversified requirements of clients by manufacturing and supplying an exclusive range of Fluorescent Microscope. It is an optical microscope used to study properties of organic or inorganic substances in biological laboratories. To design the microscope we use high quality materials, procured from the most reputed vendors of the market. Our quality analysts check the Fluorescent Microscope on certain quality parameters before dealing with the clients.
Features:
Durable finish standards

Rugged construction

Low maintenance
Further Details:

Centered on the theory of Incident light, the design of our Fluorescent Microscope makes it extremely popular among the clients. The Microscope is used extensively for research and study in a variety of fields like hematology, biology and cytology to mention a few. Our Microscopes are precision engineered.
Technical Specifications
Eye piece 10x/ 18mm
Objective

Achromatic 4x, 10x, 40x, 100x FL-10x, FL-40x and FL-100x Spring Loaded

Fluorescent illumination
Ex545 mm (Green) exciting light filter system, O ordinary light System
Abbe NA 1.2 UV protection screen
Inter pupillary distance 55-75 mm
Double Plate low position coaxial stage
Illumination Halogen Lamp HG HBO-100W Mercury Lamp 220-230v / 60HzO
Precise Ball Bearing Quadruple Nose piece